Like sports betting, you can't predict markets or which way a sector – or football – will bounce
Think the New England Patriots will win this year's Super Bowl? Or maybe that the Los Angeles Lakers will win the NBA Championship in June? St. Louis Blues to take the Stanley Cup? Duke Blue Devils to win the men's NCAA Basketball Championship?
If you're among the millions of fans who are systematically betting to try to pinpoint winners before the big games, consider that similar strategies can also apply to your stock picks.
Think about how you make your sports selections. Is it by your intuition or a team's cute mascot? Or by researching previous match-ups and outcomes?
The Beardstown Ladies
Perhaps one of the best investment strategies in theory – that didn't work out so well in the long run – was that of the Beardstown Ladies. Similar to those who pick teams with cool logos, the Beardstown Ladies of the mid-1990s bought stock in companies that made products the women used or based on their intuition. For example, when the ladies saw the parking lot at Walmart jam-packed compared to the parking lot of K-Mart, they began betting on the Walmart stock.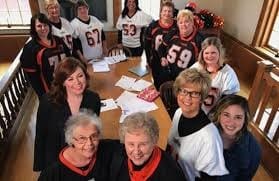 This group of small-town Ohio ladies, once told to leave investing to their men, claimed initial returns exceeding 23%, almost double the returns of the DJIA. So, does this approach rooted in inconceivable common-sense (to quote the title of their investing book) actually work?
Well, the Ladies' audited results resembled those of our friends betting based on uniform colors and mascots: sometimes good and other times wretched (the Ladies had their numbers audited after an article ran in the Wall Street Journal and it turned out their quoted returns didn't include fees. When fees were included, they actually trailed the market. They apologized, their book was pulled from shelves and their newfound fame disappeared. Nevertheless, there is something to be said for buying what you know, but that's another topic altogether).
The 2007 New England Patriots
Maybe you devote a great deal of time and money to your picks both on the field and in the market. You're not alone. Let's go back to the 2007 New England Patriots, arguably one of the best teams to not win that year's Super Bowl.
Consider that in 2007:
The Patriots went 16-0 in the regular season;
The Patriots set an NFL record for most points scored;
The Patriot's defense was ranked fourth in the NFL in points allowed.
The Patriots were favored by 14 points over the New York Giants that year. In fact, some over-confident fans might have suggested that the Patriots' toughest decision was going to be where to place the Lombardi Trophy after winning the Super Bowl.
But when a sports-bet looks like easy money, we're usually in for a surprise. And when you play the market based solely on how full a parking lot is, your real returns might in fact lag the market. That was sure true of the Beardstown Ladies' performance when auditors picked apart the group's ballyhooed claims.
Your portfolio and retirement savings must respect the value of teamwork and research. Sure, we all try to buy into strong companies that enjoy good prospects for success. Just as your favorite football team can't consist of players of only one position – no matter how good each player is individually – you should invest in more than one market sector.
The 11 S&P 500 Sectors
The S&P 500 Index comprises eleven sectors of stocks, listed below. Let's look at the sector returns for a few very short-time periods (1-month, 3-months and YTD through September 30, 2019).
| | | | |
| --- | --- | --- | --- |
| | 1-Month | 3-Months | YTD |
| Health Care | -0.16% | -2.71% | 4.21% |
| Consumer Discretionary | 0.16% | 0.18% | 21.21% |
| Industrials | 3.38% | 0.49% | 20.79% |
| Financials | 4.88% | 1.44% | 17.59% |
| Information Technology | 1.46% | 2.97% | 29.87% |
| Materials | 3.62% | -0.68% | 15.17% |
| Energy | 3.65% | -7.25% | 3.08% |
| Consumer Staples | 1.14% | 5.36% | 20.60% |
| Communication Services | 0.33% | 1.84% | 20.52% |
| Utilities | 4.01% | 8.40% | 22.49% |
| Real Estate | 0.57% | 6.88% | 26.64% |
| S&P 500 Index | 1.78% | 1.19% | 18.74% |
On some days, one sector (think health care, as of late) lags significantly. Or maybe Energy. On other days, Information Technology leads the way. Or maybe Real Estate.
As of the end the third quarter, all are up for the year. But which one will win this year?
You, if you diversify your holdings. Diversification and asset allocation are central to our philosophy at Patriot. You can't predict with certainty the market's ups and downs any more than you can, without a miss, always guess which way a football will bounce. Tired of guessing? Contact us for a more disciplined approach.