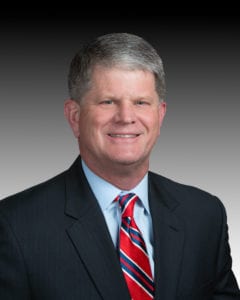 Originally from Chappell, Nebraska, Brad graduated from the United States Military Academy at West Point in 1982. After serving six years of active duty in the Army, Brad began his career in financial services working for a large brokerage firm in Washington, DC. He moved to Knoxville in 1992 and co-founded Patriot Investment Management in 1993, and passed the Certified Financial Planner™ exam in 1996.
Brad is proud to have started a fee-only firm that works exclusively for its clients. After a short time in the brokerage world, Brad quickly realized that there is a better way to help clients. Patriot's fee-only compensation model allows the advisor to focus solely on the client's needs and eliminates any potential conflict of interest that can be caused by the traditional brokerage commission structure.
Brad is passionate about using low cost, tax efficient index funds. This approach allows him to develop fundamentally sound portfolios for his clients and give them a very high probability of outperforming the more costly broker marketed funds.
Brad enjoys giving back to the community. He serves on the Board of Directors for the Holston United Methodist Home for Children and is the President-Elect for its Foundation. He is the past president of the Holston Conference Foundation of the United Methodist Church and the Florence Crittenton Agency. He has also held leadership roles in the West Point Society of East Tennessee, the East Tennessee Financial Planning Association and The Episcopal School of Knoxville.
In their spare time, Brad and his wife, Carla, enjoy watching Nebraska and Tennessee sports, and Brad has recently taken up the game of golf. They are members of Concord United Methodist Church, and their daughter, Abby, is a student at the University of Tennessee.