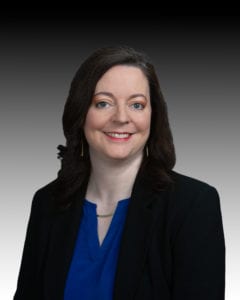 A Knoxville native, Laura has been with Patriot since 2001. She earned her Bachelor of Science degree in Business Administration in Finance from the University of Tennessee, with concentrations in Corporate Finance and Investment Analysis. Prior to joining Patriot, she worked as a Corporate Financial Analyst. Laura has experience in all aspects of business management in a variety of settings, including healthcare, public utilities, and non-profit sectors.
Laura enjoys helping her clients identify their goals, providing practical, objective advice and finding solutions to complex situations. She has a great deal of experience working with disability, long term care, eldercare and special needs issues, and structuring investment plans to help meet those needs.
Laura enjoys teaching, and she has been an instructor for the Investment Planning course for the Certified Financial Planner™ certification program through the University of Tennessee.
She is a past treasurer for a local United Methodist church, where she also served on the Building Committee, and helped oversee the planning and construction of a $1.3 million facility. She is also a past member of the Trustees for the Knoxville District of the United Methodist Church, and is a current member of both the Finance Committee and Audit Sub-Committee for the Knoxville District of the United Methodist Church.
Laura lives in North Knoxville with her husband, John, and their three children. In her spare time, she enjoys reading, photography, cooking and gardening.