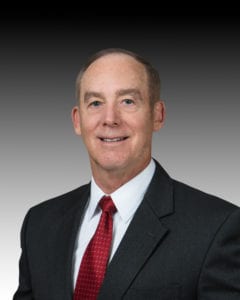 Originally from Charlotte, North Carolina, Bob joined Patriot Investment Management in 2018 and serves as a Financial Planner and Investment Manager. He enlisted in the Army in 1976 and was later commissioned into the Infantry from the United States Military Academy in 1982. Bob had a variety of experiences in conventional and special operations, including 5 combat deployments. He culminated his 35-year career, serving from Private to Colonel, as the senior Army instructor at the Joint Forces Staff College in Norfolk, VA, before retiring in 2012.
His military awards include the Defense Superior Service Medal, Legion of Merit (2), Bronze Star Medal (3), Master Parachutist Badge, Ranger Tab, and Combat Infantryman's Badge. Since military retirement, Bob has worked for a knowledge management company and served as an Educational Consultant in Dubai, United Arab Emirates.
Bob holds a BS in General Engineering from the United States Military Academy, a MS in Computer Science and Artificial Intelligence, and equivalent in Operations Research and Systems Analysis from Naval Postgraduate School, and a Master's in Strategic Studies and Advanced Strategic Arts from the U.S. Army War College. He is a Certified Knowledge Manager and a Certified Assistant Professor. He holds a Financial Industry Regulatory Authority (FINRA) Series 65 license.
Bob is passionate about life-long learning, sharing knowledge, and solving problems. After an exciting personal finance class at West Point, Bob put that knowledge into practice assisting soldiers and families. He also raised a family with five children across nineteen moves on a single military income, while maintaining a disciplined investment program. He was able to evaluate numerous financial approaches from Warren Buffett to Dave Ramsay before becoming a client, then an advisor at Patriot Investment Management.
Bob enjoys most outdoor sports, reading and playing with technology. He and his wife, Lauren, enjoy history, health and fitness, and sharing time with their children and grandchildren, and with friends from Lauren and her sister's business, CatFit Yoga in Crossville, Tennessee.